Features to help you trade
Explore Optimus Trader's simple but function-rich trading environment for intuitive order entry and execution.
Visually appealing charts with simple technical analysis that does not make your trading screen look like a "spaghetti bowl". Strategically located Buy and Sell Buttons to help you execute trades without blocking your view of what's important in the markets.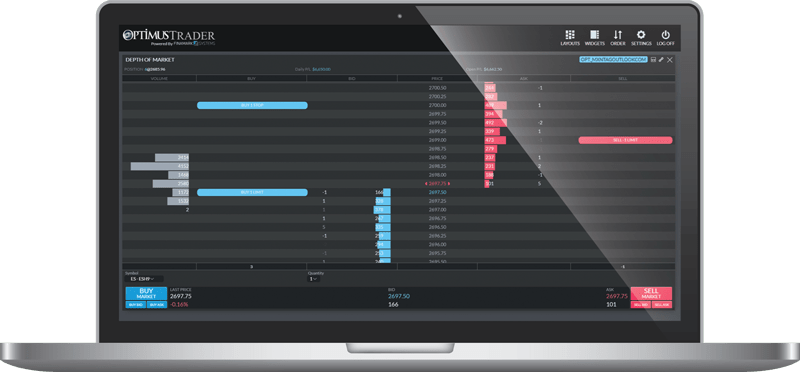 How deep do you want to see the price levels on the DOM? How about everything that the CME offers? Execute directly from the DOM or from the order module right on the DOM.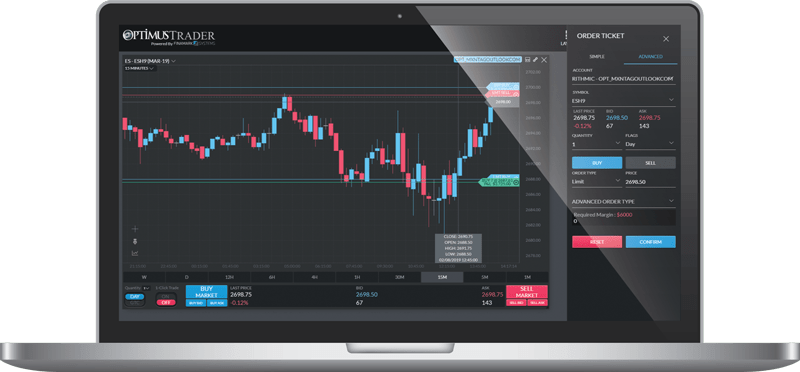 If you are not a frequent trader and wish to place orders at a slower pace, the trader module is for you. Place your order, stop-loss, profit target and choose the order duration. For active traders that place orders more frequently and desire instant execution, execute your trades immediately without any confirmation screen by enabling 1-Click trading on the order ticket.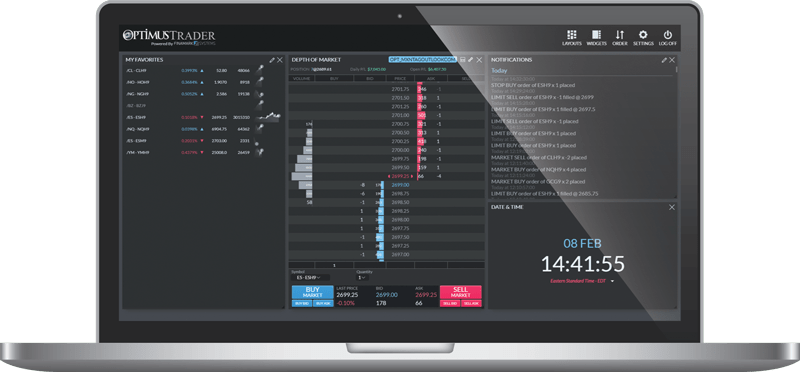 Keep track of the instruments you trade most! Modify the My Favorites widget to display up-to-the-moment details about your favorite instruments and assets. Each asset displays the contact date in brackets with relevant, percentage of price change in that day, the current market price of the asset, total count for the quantity of trades in that current trading day, and a line graph of the price over time.
The CME's matching algorithm splits up the large lot orders, so you can see precisely how the orders are split up. The Reconstructed Tape displays the volume and prices of Sell and Buy orders that are currently active in the market.
Know where you stand with Working Orders, Filled Orders, and Cancelled Orders with the Positions and Orders widgets. The positions widget displays all relevant information about the trades you are currently holding while the orders widget displays details for all the orders you have created recently.
The Optimus Trader Platform is capable of handling multiple accounts per user. Traders can set each widget to show data from any of the accounts they possess, simulated or live. Link widgets to keep things neat.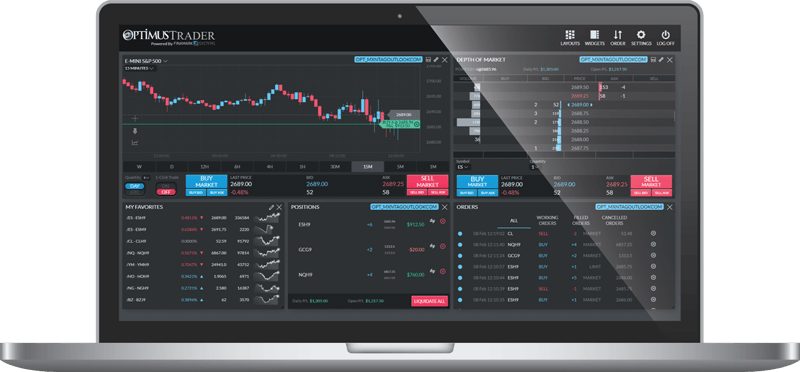 The multiple widget feature of the platform allows traders to never have to switch screens. Have as much information as you can handle on one screen and save yourself valuable time by staying focused on what's in front of you.